Phantom: High-grade tools
Getting the right machining result the first time every time. Only reliable, top-level quality tools can achieve that. With Phantom, top-level quality levels are guaranteed and your possibilities are positively limitless. Precision and long tool lives will be guaranteed. Even when machining high-grade materials, Phantom tools guarantee optimum performance and high accuracy. And that is precisely what you want to be able to rely on.
---
---
Phantom, for precision and long tool lives
Phantom's comprehensive tool programme easily allows you to find the right milling cutter, one that enables you to get the best result under these machining conditions. In this case, a VHM MicroGrain-coated roughing cutter is used. This cutting tool is highly suitable for machining high-grade materials. At the same time, a lot of material can be processed at high usage values. Because of the long tool life, you can machine the roll 'in one go'. This is also true for the spiral-fluted multi flute end mill used for finishing. This last milling cutter, moreover, meets the concomitant high accuracy requirement. The end result is a very sharp roll that can be used to produce wood fibres for several months.
---
"There's no end to what you can do"
---
---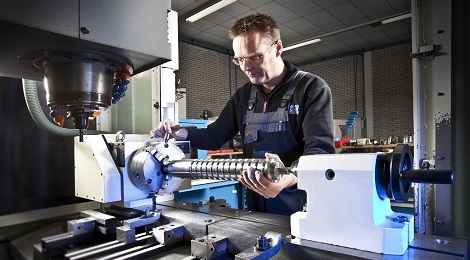 Optimum machining of high-grade materials
The workpiece being made is a roll with cutter teeth designed to be part of a machine that turns wood into wood fibres. This roll is made of high-grade steel that derives its durability from a carburisation process.
After the preparatory turning, drilling and milling is done, the cutter teeth are milled into the roll. This requires taking the length of the roll and the risk of vibration occurring into account.
When it comes to this last operation, failure is obviously not an option. Such a situation requires high-quality cutting tools that are genuinely reliable.